Unifem:
A Gynecology Division of Uniza
Nurturing Women Health is the main stay of Unifem. Unifem's endeavor is to bring forth range of products that cater to women's health right from Menarche to Menopause with its presence across Therapeutics, Nutraceutics & Cosmeceutics. Empowering livelihood of women by providing solutions to menstrual issues in adolescents, Fertility issue & Pregnancy care in Adults, Menopausal issues in later stage of life.
Our Product Range:
Our endeavor is to bring innovative and comprehensive product range for gynecology with best in class quality. Our product range comprises of Hormones, Nutraceuticals and Injectable.
Pregafem SR
Natural micronized progesterone tablets available in sustained release tablet formulation. Pregafem SR is available in 3 SKUs with 200mg/300mg/400mg. Pregafem SR offers the advantage of OD dosing and maintains consistent progesterone levels for 24 hours. Pregafem SR offers quality and efficacy equivalent to market leaders.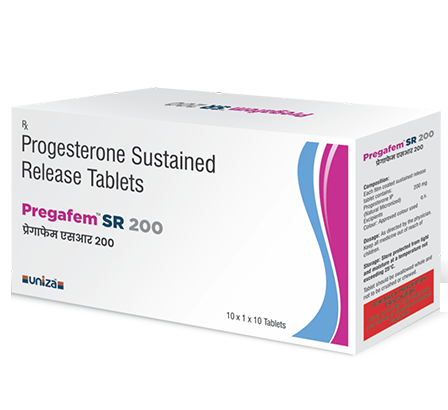 Nizafol D
Comprises of active form of Folic acid, Pyridoxine & Cynocobalamin with DHA & Vitamin D3. It contains all essential vitamins required for pregnancy and lactation. Nizafol D offers best-in-class advantage of Vitamin D3 2000 IU and available in very small size capsule form for better patient compliance.